The latest Dracula's America, Gangs of Rome and other releases from North Star...
--------------------
Welcome to Newsletter 134
We're getting straight into the New Year
with two exciting releases.
Number one
is the first supplement for Dracula's America, titled Hunting Grounds. We're taking orders for the book now and pre-orders for our new figure releases. We put together figure collections to represent the new Posses' in Hunting Grounds.
You can buy any of the Posses, or best of all, the Hunting
Grounds figures collection that gets you all the figures, saves you money and gets you a freeGhost-Witch miniature that isn't available to buy.
We're shipping the miniatures after the 25th of January.
Our two big news pieces are not everything we have to tell you about, you'll find them towards the bottom of the newsletter.
Inspired by the history of the great city, Gangs of Rome takes place in the shadows of the Empire where the heads of ambitious houses have gathered fighters forged hard by the streets to do their bidding and enact their schemes.
Gangs of Rome special bundles end Monday

8th
Dracula's America
- Hunting Grounds
Dracula's America: Shadows of the West
is a skirmish game of gothic horror set in an alternate Old West. Secret wars rage across the country - from bustling boom-towns to the most remote wilderness - as cults and secret societies fight for power and survival.
New supplement for
Dracula's America
- Hunting Grounds
Kobolds & Cobblestones
is a skirmish wargame for rumbles between gangs in the city of Ordinsport's seedy underbelly. Players hire gangs of criminals, thugs and enforcers from a number of classic Fantasy races, and attempt to take control of the underworld and establish themselves as the city's kingpins. Playing card-based mechanics and a cunning bribery element keep players on their toes, as a one-sided battle can turn around in a flash.
Modiphius - Star Trek
Star Trek Adventures
The Next Generation Starfleet Deck Tiles
This gaming tile set contains 16 double sided tiles for a total of 32 interchangeable 240mm square and 120mm by 240mm map tiles of Federation starship interiors.
Fully realised top-down designs of key locations on a Federation starship: the bridge, main engineering, astrometrics, sickbay, and other corridors and shuttlebays. Marked with movement areas compatible with the 2d20 system for use with the Star Trek Adventuresconflict rules.
Second World War
American Forces
British and Commonwealth Forces
Devils Brigade
French Forces G
erman Forces
Italian Forces
Resistance & Partizans
Soviet Union Forces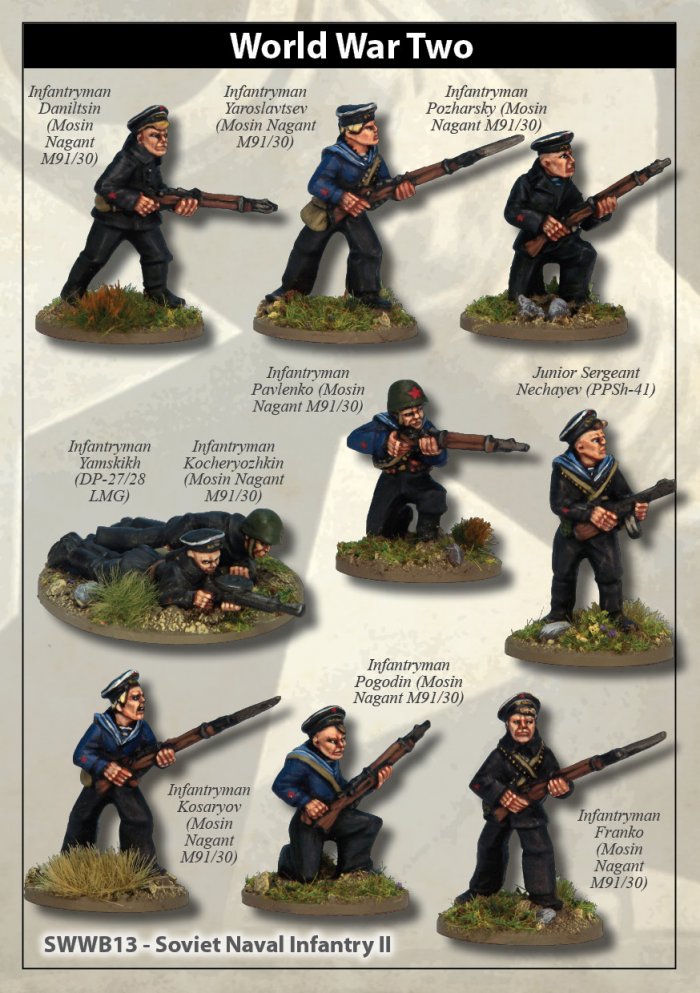 Soviet Naval Infantry
These figures represent a Naval Infantry squad from the Soviet Red Army of WW2. They are in their Naval uniforms, and were seen in many theatres of the Eastern Front, including the Siege of Stalingrad.This squad pack gives you a ten man unit armed for use in all World War Two wargames like Bolt Action, Rules of Engagement and Final Assault.
Conquest Games
Medieval Knights
The January Sale at North Star is on
Also, we are running some deals on our sister sites.
Go here for Artizan Design Deals

Go here for

Crusader Miniatures Deals
Go here for

Copplestone Castings Deals
please
'like' us on Facebook
Copyright (C) 2003-2018 North Star Military Figures Limited Ltd All rights reserved.

North Star Military Figures Limited. (Company number 6215435 registered in England). Registered office: W37, Lenton Business Centre, Lenton Boulevard, Nottingham, NG7 2BY, U.K. Telephone 0115 9786656.